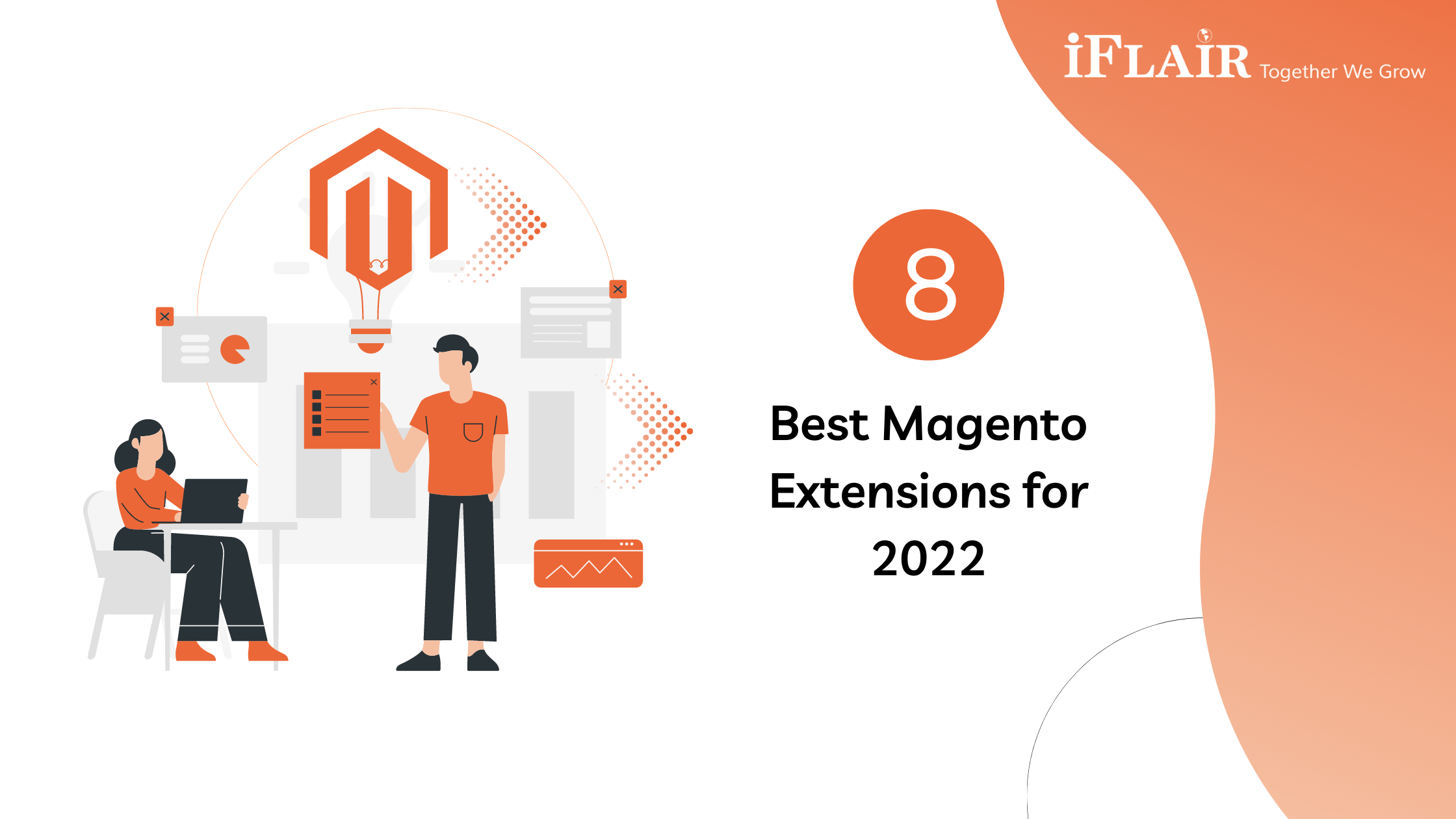 8 Best Magento Extensions for 2022
Jun 17, 2022 |
10 minutes read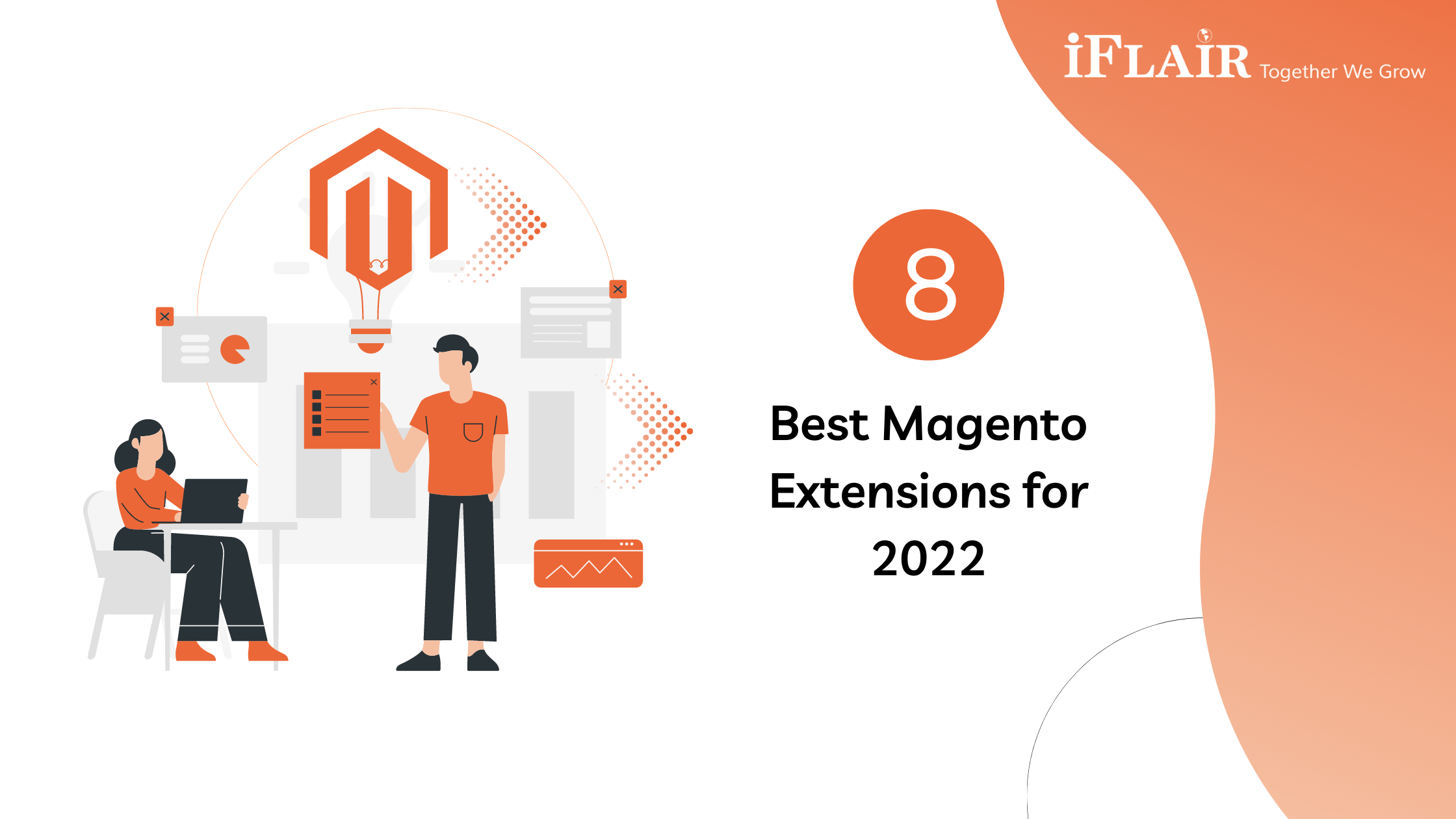 Magento powers more than 4% of all eCommerce websites. Moreover, the Magento platform builds over 10% of the world's top sites. This platform is preferred by businesses of every size and type, since it helps them create a successful online store. Magento 2 is the most popular version of Magento. It has the most advanced plugins and themes for an online store, as well as incredible functionalities. They assist in the proper management and optimization of the website. This blog goes into detail about Magento and its extensions, as well as the best Magento 2 extensions in 2022.
If you're familiar with the eCommerce business, you'll know how crucial it is to use Magento development for your eCommerce site. It's an open-source eCommerce platform developed by Varien Inc. in 2008. The company's second version, Magento 2, was released in 2015.
The eCommerce platform enables developers to create cutting-edge yet dynamic online pages that may handle our eCommerce transactions efficiently. Magento's adaptable architecture allows developers to construct an online store more rapidly and simply. It also offers several various advantages to the developers who are creating an improved eCommerce store. Hire Magento 2 experts from a reputable Magento development company if you're planning to start an eCommerce business.
Why Do You Need a Magento Extension?
An extension is a code that extends the functionalities of an existing program. The primary purpose of Magento extensions is to provide new features or enhancements to your site without having to write custom code. It's not essential to have an extension for your store; however, they can save you time and money by adding valuable features quickly and easily.
In addition to improving the look and adding new functions to an eCommerce site, Magento extensions offer a variety of benefits. Here are a few of the main benefits,
Magento extensions may help boost the performance of your website, which is one of the most significant advantages. You may improve loading speed and overall performance by adding features like caching.
Magento extension may also improve the SEO of your website. You may make it simpler for search crawlers to index your site by adding an extension that produces sitemaps, for example.
Extensions for Magento may also help to promote your website. You may make it simple for people to share your material on social media by extending the site with a plugin that generates social media share buttons.
You may also manage orders more effectively with Magento extensions. You may make it simple for clients to keep track of the status of their order, for example, by installing a add-on that enables them to monitor their order progress.
You can integrate with third-party apps more simply with Magento extensions. You may make it simple for customers to pay for their orders by adding an extension that allows them to pay through PayPal, for example.
Top Magento Extension of 2022
Now that we've gone over some of the advantages of Magento extensions, let's take a look at some of the top Magento extensions of 2022.
1. One Step Checkout by Amasty
Amasty's One Step Checkout extension is an add-on that allows store owners to convert their checkout page into the most interesting page on their Magento 2 site. It not only speeds up the loading of a web page, but it can also assist in improving client satisfaction. It's essentially a software that allows customers to convert into regulars by providing them with an easy and quick checkout page. It can also be used to enhance and customize the appearance of a checkout page.
With Zoho CRM, you may store and segment your customer data into distinct categories throughout the buying process. This aids leaders in identifying consumers and designing specialized sales and marketing operations for them.
With the help of Zoho CRM for Magento 2, you may better manage your company's status and strengthen customer relationships by connecting your Zoho CRM with your Magento 2 store. By linking your Zoho CRM with your Magento system, you may track the flow of commercial information and identify cross-sale and up-sale possibilities. Because purchase history and consumer account data from your Magento store will be synchronized, your Zoho CRM system can be utilized as a powerful marketing tool.
OneSaas helps you simplify your company by linking applications such as accounting, ecommerce, billing, and invoicing; CRM, fulfillment, inventory management, and email marketing. It's a fantastic Magento 2 extension that integrates many sales channels into a single account while keeping track of stock. It eliminates human error from data entry. OneSaas manages all of the data associated with your quotes, orders, invoices, payments, and receipts as well as line items and related products using the Magento Quickbooks Extension.
You may use the Nosto Magento Extension to display customized online product suggestions. It does so in real time by analyzing a vast number of data points from your online shop. Advertisers can build, execute, and optimize sophisticated multi-channel marketing campaigns without the need for specialized IT resources thanks to it.
5. MageWorx SEO Suite Ultimate
Organic promotion necessitates the use of Search Engine Optimization (SEO). It might be difficult to accomplish all of it manually. The SEO Suite Ultimate extension for Magento 2 at this time helps. The toolkit addresses a wide variety of on-page SEO tasks, from weeding out duplicate content and improving site indexation to boost any kind of ULRs and enormous volumes of data. The extension provides all of the above features and more, such as sophisticated HTML and XML sitemaps, cross-linking, SEO redirection, and rich snippets.
With the Advanced Search extension, you can perform a broad and fast search across thousands of blog and product pages with relative ease and speed. This extension adds functionality to Sphinx, allowing you to match keywords and products with confidence, as well as deliver precise results. The Wildcard Search, a built-in lexical analyzer, the Morphology engine to decode any query and provide the greatest search outcomes to users(s), are also included.
The Magento Stripe Payment Extension allows store owners to accept payments through the Stripe payment gateway on their websites and eCommerce stores. With this extension, users can pay instantly using a token from Stripe.js. This extension makes the payment process faster and more secure. It also allows refunds for cancelled orders or unsatisfied customers.
8. Two-Factor Authentication by Xtento
Any online store has a major security issue with illegal logins. This implies that two-factor authentication using Xtento may be used to secure a website and prevent people from visiting it without permission if the operators of eCommerce channels wish to safeguard the site and prevent access. When using two-factor authentication with Xtento, the Magento 2 store backend is more secure.
Extensions may help you make money from your online store. You may control your job easier by using the appropriate kind of extensions for your online company, in addition to boosting your productivity. Start using these Magento plugins right now to increase performance, enhance customer engagement, and generate more sales for your eCommerce business.